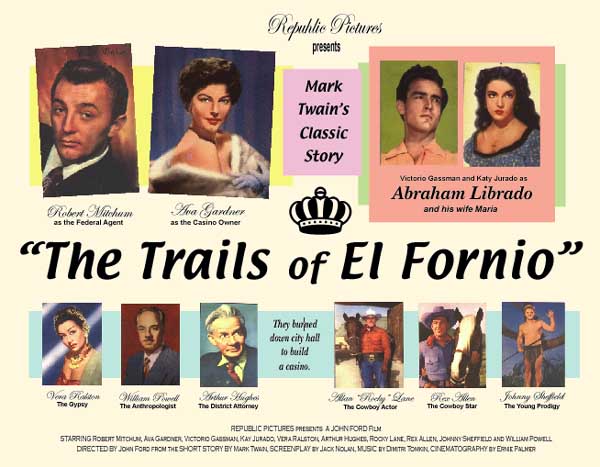 In 1952, Republic Pictures produced "The Trails of El Fornio," based on the Mark Twain
short story. John Ford directed the film, with Robert Mitchum and Ava Gardner starring.
Victorio Gassman and Katy Jurado played Abraham Librado and his wife Maria. Vera Ralston,
William Powell and Arhtur Hughes were other notables in the film. Rocky Lane, Rex Allen,
and Johnny Sheffield brought up the rear. The cinematographer was Ernie Palmer.
The music is by Dimitri Tompkin. "They burned down city hall to build a casino."
RELATED LINKS
Robert Mitchum
http://en.wikipedia.org/wiki/Robert_Mitchum
www.stars-of-old.com/mitchum.html
Ava Gardner
www.avagardner.org
http://en.wikipedia.org/wiki/Ava_Gardner
Katy Jurado
http://en.wikipedia.org/wiki/Katy_Jurado
Vera Ralston
www.shoestring.org/mmi_revs/veraralston-ms-102853906.html
www.filmbuffonline.com/InRemembrance/VeraRalston.htm
William Powell
http://en.wikipedia.org/wiki/William_Powell
http://themave.com/Powell/
Arthur Hughes
http://en.wikipedia.org/wiki/Arthur_Hughes_(actor)

Allan "Rocky" Lane
www.surfnetinc.com/chuck/alane.htm
www.briansdriveintheater.com/allanrockylane.html

Rex Allen
www.rexallenmuseum.org/

Johnny Sheffield
www.briansdriveintheater.com/johnnysheffield.html
www.tarzanmovieguide.com/sheffint.htm
http://en.wikipedia.org/wiki/Johnny_Sheffield


---