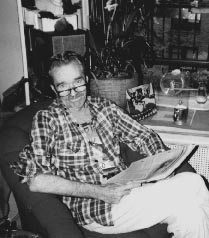 Barclay Combs, c.1978, in his study.
Barclay Combs
The historical society is very pleased to have acquired the photographs of Barclay Combs (1918–1980). Combs was an avid photographer, documenting much of El Fornio and county environs during his lifetime. A ball turret gunner in WWII, the lifelong bachelor's work was primarily commercial but he did find the time to investigate his penchant for black and white photography and prints. Working out of his Janus Studios, where nearly every brochure and printed item in the county was designed during the late 1940s until the 1960s, Combs documented the region more than any other photographer of his time. [see his "A Mission Rivisioned."]

While never achieving the acclaim of his contemporary Ansel Adams, Mr. Combs is ironically known for the color photograph he took appearing on the cover of the August, 1976, cover of National Geographic. Indeed, Barclay Combs is officially known as the "Ansel Adams of El Fornio, California"™
RELATED LINKS
Ansel Adams Sites
www.anseladams.com/
http://en.wikipedia.org/wiki/Ansel_Adams
National Geographic
www.nationalgeographic.com
www.rjgeib.com/thoughts/gunner/gunner.html


---